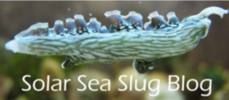 Away for a few more days
Greetings from Bonaire. Hoped to do some live blogging, but the new computer is down.  Many exciting things to see here,  as always, and we have some wonderful new photos of E.crispata to share when we can upload them.
Meantime, here is one of the new E. clarki that arrived in Box of Slugs 1.0 last week. Will bring real camera back to office next week for better photos.