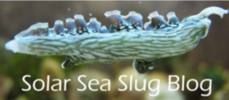 Bryopsis 2: Thriving in the slug tanks
Just when I thought I had it all figured out.
After struggling for way too long, I finally got reliable growth of Bryopsis in the algae culture tanks by providing strong lighting, balanced nutrients, along with very intense water movement.  Bryopsis grew well, although Derbesia also started to thrive and needed periodic removal, so I figured I was close to the magic formula.
Imagine my surprise when Bryopsis started to thrive, largely without contamination by dinoflagellates or Derbesia, in the slug culture tanks.  In the 20 gallon long, the algae that was transferred on the plastic racks started to grow and spread, despite constant grazing from the resident E. clarki.  In the 10 gallon, a few scraps growing on some of the macroalgae grew to fill almost half the tank.
This has made the single E. crispata very happy.  She has grown considerably, and her color is amazing.  Will post a photo when she comes out of the algae far enough to be photographed.
The tanks are all plumbed together, so they all receive the same nutrient input.  The slug tanks receive somewhat less light than the algae culture tanks.  The spectrum of the lights in the slug tanks is broader, with more green, yellow and UV, mostly because that is nicer for my eyes when I look at the tanks.  Finally, the circulation is considerably less intense.  The algae tanks are blasted with propeller pumps and wavemakers, while circulation to each of the slug tanks is only provided by a single Maxi-Jet 600 (600 liters per hour output), with the intake slug-proofed by a strainer and sponge, and the output directed through a Hydor Flo to provide swirling motion.
Because even these relatively small pumps give the slugs a bit of a wild ride, they are only turned on for 15 minutes of every hour.  Quick summary: despite my beliefs to the contrary, it is possible for Bryopsis to grow strongly with modest water movement.
Although I am pleased that there is now abundant food for the slugs, it does bother me that I still do not understand all of the factors affecting growth of Bryopsis.  Previously, Bryopsis struggled in conditions that were largely similar.  If I get a chance before leaving for Baja this week, I'll make yet another deep dive into the system logs to determine which parameters may have changed.  The luxuriant growth has emboldened me to order a few more E. clarki, so that the colony can be going full steam by the end of the summer.