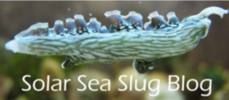 Frilly Slug Going Home
There has been a frilly sacoglossan (Cyerce?) in the growout tank, which presumably rode in with the last batch of algae.  In an effort to focus on E. clarki in the hatchery, and because there is probably another one of these guys remaining in Box of Slugs 2, she is getting moved home tonight.
Despite the utter failure of the environmental system at USG (temperature 28 – 30 degrees C over the past few days), the hatchery has muddled along.  Even got the first small batch of eggs from the second generation of E. clarki.  Thought it might be useful to start providing a sense of scale of these things.