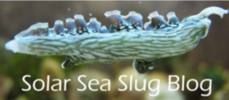 Getting Ready for Science
The project has had the feel of watching grass grow lately, mostly because I have been spending a lot of time collecting and establishing potential food algae for the slugs, and then watching them grow.  Nonetheless, there is beginning to be some motion.
For example, starting Spring semester (late January), I will have a couple of students starting some simple molecular experiments.  Although the diet of Elysia clarki is well-characterized, that of the species we find in Baja California, E. diomedea, is still not known for certain.  On the next trip to Bahia de los Angeles, I plan to collect some E. diomedea, and identify their food plants based on the DNA of the chloroplasts that they have stolen from their food.  This kind of work is straightforward in a comfortable lab where one has access to liquid nitrogen and other luxuries.  However, we will need to develop  protocols that will  work in the heat and limited resources of the field station in Mexico.  So, we will use the semester to develop a protocol for extracting and purifying DNA that utilizes the simplest methods possible.  Meantime, it will be necessary to put together reading lists on the biology of Elysia and methods of DNA extraction so that we can hit the ground running.
The animal care system is also evolving.  As I described a while ago,  I have been lucky enough to get hefty samples of a few varieties of hair algae such as Bryopsis and Derbesia from local aquarists.  The trick has been to get enough growth to maintain a self-sustaining supply of food.  Although filling a tank with algae, sticking it into a window, and dumping hefty amounts of ammonia and phosphate into it produced decent results, it was not very stable.
Instead, I have added a 20 gallon tank devoted to growing algae to the slug culture system. The fancy hydroponics light gives a great spectrum for growth,  but the strong red-pink quality of the light is not the most pleasing.  There are a couple of species of hair algae, plus a tub of marine sand for macroalgae that need a substrate.  To take advantage of the automated dosing of NO3, Ca and HCO3, it is plumbed into the rest of the system.  Dosing of NO3 has already been increased a few times to keep up with the growth of the algae.
In other news, the controller that currently controls the lights, temperature and pH will soon be replaced by a newer, cloud-based model.  This will allow remote monitoring of temperature, pH, and power use, as well as sensing moisture under the tanks in case of leaks.  It can send email alerts in case of equipment failure, and should help prevent loss of animals or damage to property.