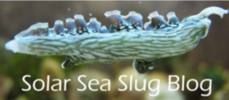 Going Old School
I have been using a variety of different lighting systems in the hatchery.  The Broodstock tank, with the adults, larger juveniles, and plentiful food, is lit with an old Coralife 2X55 watt compact fluorescent (CF) hood, whereas the growout tank has two 20-watt Marineland "Reef Capable" LED fixtures.  The macroalgae have been growing like weeds under the old Coralife fixture, whereas the Marineland fixture has not performed all that well.
I suspected that the problem was the spectrum produced by the LED lights.  Although many high-end LED systems contain red and far-red LEDs, the Marineland lights had arrays of blue and white LEDS, which produced very little red light.  On the other hand, "daylight" CF lamps produce light with a broader spectrum, including significant amounts of the red and blue needed by Elysia food plants.
The solution seemed obvious.  It is relatively easy and cheap to assemble CF fixtures using surplus ballasts, endcaps, clips and reflectors, so why not just build one?
Step 1 was to find the right parts, a wiring diagram for the ballast (in this case a Workhorse 5), and to make sure the parts still worked.  A quick and dirty assembly shows the ballast, lamps and endcaps are ready to go.
Next, it was time to cut an old reflector to the right length, and figure out the rough positions for everything.
Although wire nuts would be faster, soldering and shrink-tubing the connections seemed best, given the moist, splashy location.
All that remained was to secure the ballast, power cord, and the clips for the lamps (bulbs) to the reflector.  Bingo!  A new fixture that will produce a spectrum more appropriate for aquatic plants.