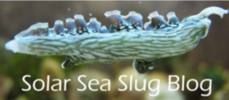 Mystery Alga
As I mentioned in the previous post, sometimes it is not so easy to identify an alga.  In this case, it is a species that bloomed spectacularly when a local reefkeeper set up a new tank.  The rock had been thoroughly cleaned and bleached, and no corals or fish had been added, so Alan did not expect the growth of nuisance algae.  He was rather surprised to see a rapid, spectacular bloom of long, furry green algae.
At first we thought is might be Bryopsis (yay!), so it seemed worth trying to feed to the slugs.  Once I saw and felt it, it was clearly something else.  It was soft, like Derbesia, but longer and had branches that extended radially (like a bottle brush) from the main stem.  Bryopsis feels coarser, and the branches extend in a single plane (like a fan).  So, it was not one of the usual suspects.  Nonetheless, it was worth throwing some into a tank to test whether the gals would eat it.  They did not immediately plunge into it, as they would have for Bryopsis, but they seemed to find it palatable enough.  Note the fine structure of the branches in the photos below.
The plant has some characteristics of the order Bryopsidales, such as the lack of clear cellularization.  It looks like the plant is made up of a continuous, single cell.
I thought a quick look at the DNA sequence would clear things up, but that was not the case.  The closest match, Acrosiphonia, with 88% sequence identity.  That's not a very good match, and even though it looks somewhat like Acrosiphonia, the unidentified alga lacks several key features, such as the hooks on the branches (which cause mature plants to develop a dreadlocked appearance) and clear cellularization of Acrosiphonia.  Plus, Acrosiphonia is a cold water species, unlikely to thrive in a warm reef aquarium.
The closest visual match so far is Trichosolen, which does have warm water species.  The only species with rbcL sequence in the database (T. myura) is only an 86% match for DNA, so it's probably not the one either.
By way of comparison, the usual pest algae (various species of Bryopsis and Derbesia) were only 82% – 83% identical, so we can at least rule out the possibility that it is an oddball species of one of those.
The hunt continues for a match.  Not very satisfying, but some days are like that.