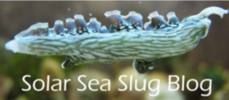 Quiet days
Apologies for the radio silence, but little has been happening this past week.  The most promising batch of baby slugs has largely disappeared while I was away for the holiday, although the next batch looks excellent.  The November 12 clutch, which I have been documenting since it was deposited, has hatched.  Unfortunately, I have not found an easy way to video veligers that refuse to stay in one field of view for any length of time.  They will probably settle tomorrow, and will be photographed then.
Baby ponies have been hard to find.  I rarely see them, but this little one appeared briefly before I left last week.  A little more color perhaps, but quite the skinny little fish.
Tomorrow will be a good day for a little maintenance.