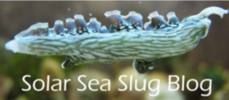 The rest of the Family
There is a total of five ponies in the tank, and I introduced two of them a few days ago.  The other three were feeling neglected, so here they are.
From a distance, this male does not look all that interesting,  A closer look shows just how handsome he is.
This female is not as colorful as the others, but is larger and more robust than her girlfriends.
Last, but absolutely not least, is this little green beauty.  She is still small and skinny, but is an amazing yellow-green that does not show up very well in this photo.  Like the rest of the cohort, she spends a lot of time hanging quietly in awkward positions, with occasional sprints to new locations.
Yes, this is a blog about slugs.  Not much news at the moment about them, though.  One of the students is helping me work out protocols for raising some babies for anatomical studies.  Mostly, though, they sit on the Bryopsis like a herd of legless aquatic cows.  They have taken on a wonderful deep green color.