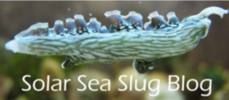 Things Have Been Happening
It have been well over a month, so I suppose I have earned the title of World's Worst Blogger.  It's not for lack of news, though.  In fact, one of the reasons for the lack of posting is the abundance of activity.  In addition to the semester being in full swing, with the usual collection of lectures, exams and labs to attend to, the Elysia project has made some real strides in the past few months.  Today's post will be a quick summary of the new beginnings, with the promise of more to come.
First off, this fall is the official start of student involvement in the Universities at Shady Grove (USG) Solar Slug Project.  Loyal followers of the blog will know that the USG project has been active for well over a year.  However, the primary goal of the project is to provide University of Maryland students here at USG with a research experience.  Now that the infrastructure is in place, there is now a squad of two undergraduate students who will be working on a small molecular biology project.  The main purpose of their work this semester is to develop a protocol for extracting chloroplast DNA that can be used to determine which species of plants the sea slugs are holding in their bodies.  We'll start with a well-studied species, E. clarki, with a view to performing the same experiment on Elysia diomedea in Bahia this summer (see below).  The students have completed their first two assignments covering the basic biology of the system and the specifics of the methods they will be using.  We should be ordering reagents in a few days and doing some real biology next week.  Stay tuned for updates on their progress.
Another big news item is that solar slugs will be a significant part of the Ocean Discovery Institiute program in Bahia de los Angeles this summer.  One of the high points of my year is going down to Baja California to help them out with their work at the field station there.  This year, the slug project will expand to be a Directed Research project, involving a small group of students for the entire duration of their time at Bahia.  We will be performing experiments to identify the food plants and examine the activity patterns of Elysia diomedea.  Because large Elysia species are often found away from potential food plants, and because their method of feeding (sucking the sap) leaves no obvious bite marks, it can be difficult to know what they are actually eating.  Knowing what E. diomedea eats, and how much time it spends feeding, basking or hiding, should provide important insight into why it stores and maintains chloroplasts from its food plants.
For the semester's experiments, we ordered some new E. clarki and have been fattening them up for experiments.  In addition to new Penicillus and Avrainvillea from collectors in the Keys, we are getting some nice Bryopsis and an unidentified species of broad-leafed algae in the half-ten algae growout tank.
As you can see, it is still difficult to find the right nutrient balance that generates lush growth of the target algae without encouraging cyanobacteria (the red stuff), but we are moving closer all the time.
That's it for now.  More soon, I hope.