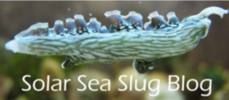 What a difference 5 days makes
Because the age of the eggs collected in the previous post is known with some precision, it was a good opportunity to document the time course of development.  On day one, the embryos looked like balls of stuff, and did not move much. Below is a video of the eggs, but it may as well be a still.
However, within 5 days, things have really started to get moving.  The embryos are starting to look like little veligers, and are spinning in their eggshells constantly.  They still have at least 10 days before they hatch, so it seems like a bit of a waste of energy, but it may serve some purpose.