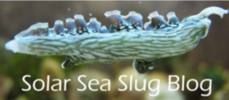 Next Batch, Known Timepoint
Almost always, egg masses appear sometime after I leave at night and before I return the next morning.  I was lucky with this batch, because Mom seemed to be doing something on one of their favorite egg-deposition plants.
You should be able to see the egg mass underneath her as it is being deposited.  The eggs to the right are the remains of an earlier mass that should be close to hatching.
Next morning, there it was in all its glory.
It's a good one to collect for timing of development.  So, here's what they look like on day 1.  Balls of cells and yolk, as far as I can tell.